:: July 13, 2015
Honor your Spirit Contest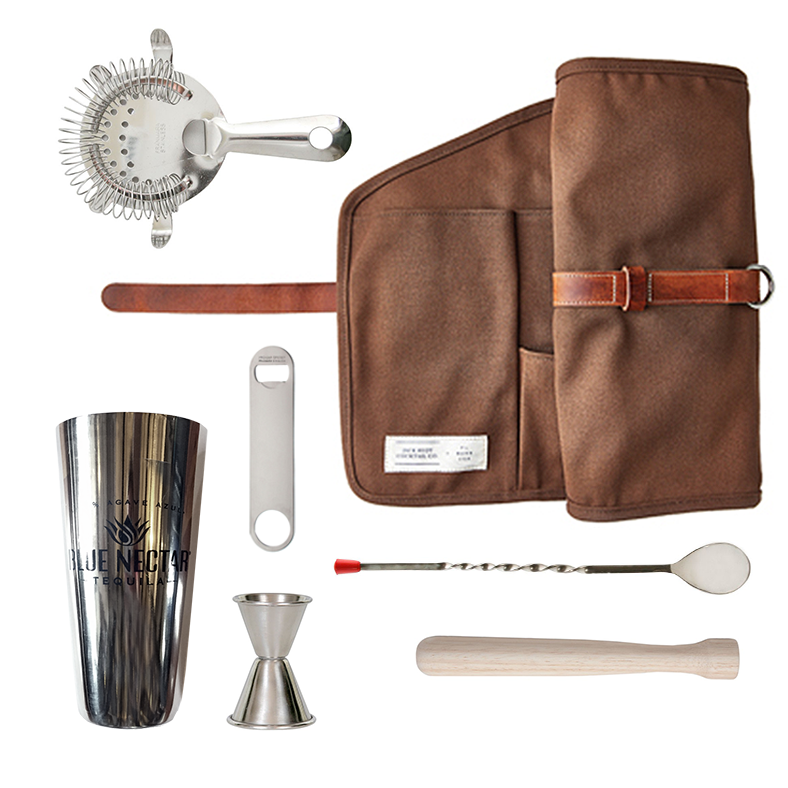 Blue Nectar Tequila was created by a father and son with a shared love for tequila. If you feel this passion for tequila then it's time to join the family. Get ready to get creative. Develop an original cocktail recipe using Blue Nectar Tequila for a chance to win a premium bartender's roll and bar tools.
TIMING
Begins: July 13th
Ends: September 30th
HOW TO ENTER

Develop an original cocktail recipe using Blue Nectar Tequila

Post a photograph of the cocktail and the recipe on your Instagram page

Tag @BlueNectarTequila in your post and include the hashtag #HonorYourSpirit
THE GRAND PRIZE
One winner will receive a premium bartender's roll by Jack Rudy Cocktail Co. & a set of bar tools for all of your cocktail needs: Blue Nectar Branded Stainless Steel Shaker, Stainless Steel Strainer, Stainless Steel Double Jigger, Wooden Muddler, Bar Spoon and a Bottle Opener.
RUNNERS UP
Two runners up will be selected to have their cocktail featured on our Facebook Page with recipe credit
Get to shakin' and stirrin'! Salud!
---
OFFICIAL RULES
NO PURCHASE OR PAYMENT OF ANY KIND IS NECESSARY TO ENTER OR WIN THIS CONTEST
OPEN ONLY TO LEGAL RESIDENTS OF THE UNITED STATES WHO ARE AT LEAST 21 YEARS OLD AS OF THE DATE OF ENTRY
By entering this Contest, entrants accept and agree to be bound by these Official Rules. Any violation of these rules may result in disqualification. All decisions of the Sponsor regarding this Contest are final and binding in all respects.
CONTEST PERIOD. The Contest begins July 13, 2010 at 4:00 p.m. (EST) and ends on September 30, 2015 at 12:00 p.m. (EST), when all entries must be received ("Contest Period").
ELIGIBILITY. This Contest is only open to legal residents of forty seven (47) states of the United States and Washington D.C. who are twenty-one (21) years of age or older at the time of entry (the contest is not open to the of legal residents California, Utah, and Tennessee) and have a valid INSTAGRAM® account, except officers, directors, members, shareholders, and employees of the Sponsor, the Judges or any other party associated with the development or administration of this Contest, and the immediate family (i.e., parents, children, siblings, spouse) of and persons residing in the same household as such individuals. This Contest is void outside the United States, and in any state in which it is prohibited or restricted by law (including, without limitation, Rhode Island and any other jurisdiction in which registration or bonding is required or may become required at any time during the Contest).
HOW TO ENTER. In order to participate in the contest, you must post an original cocktail recipe using Blue Nectar Tequila and photo of the cocktail on your Instagram account with the tag @bluenectartequila and the hashtag #HonorYourSpirit
PRIZE. There will be a total of three (3) winners. The grand prize winner (1) will receive a premium bartender's roll by Jack Rudy Cocktail Co. & a set of bar tools: Blue Nectar Branded Stainless Steel Shaker, Stainless Steel Strainer, Stainless Steel Double Jigger, Wooden Muddler, Bar Spoon and a Bottle Opener with a $200 value. The two (2) runners up will have their cocktail featured on our Facebook Page with recipe credit.
WINNER SELECTION AND NOTIFICATION. Winner selection will be conducted on October 1, 2015. Any potential winner will be notified via INSTAGRAM®. The potential winner, upon being notified by the Sponsor, must respond to the Sponsor within three (3) business days and provide the Sponsor with his/her contact details, including mailing address and telephone number. If the winner does not provide a valid address within three (3) business days from the date the Sponsor first tries to notify the winner, the winner forfeits all rights to the Prize and to the selected products and Sponsor reserves the right to select an alternate potential winner.
PRIZE COLLECTION. The products, towards which the winner may redeem the Prize, will be shipped by the Sponsor at the Sponsor's cost to the winner at an address in the U.S. provided by the winner. If the winner does not provide a valid address within three (3) business days from the date the Sponsor first tries to notify the winner or if the Prize notification or the selected products are returned as undeliverable, the winner forfeits all rights to the Prize and to the selected products and Sponsor reserves the right to select an alternate potential winner.
NO PRIZE TRANSFER OR SUBSTITUTION. The Prize is not transferable or redeemable for cash.
DISCLAIMERS. (i) Entries that are lost, late, misdirected, incorrect, garbled, or incomplete, for any reason, including by reason of mutilation, illegibility, non-delivery or computer, software or human error at Sponsor's headquarters or elsewhere, will not be eligible. In the event of a dispute, entries will be deemed submitted by the person named on or in connection with the Contest Entry at the time of entry. (ii) Sponsor, in its sole discretion, reserves the right to disqualify any person tampering with the entry process. Use of multiple Contest Entries is prohibited and may result in disqualification at the sole discretion of Sponsor. (iii) Sponsor further reserves the right to cancel, terminate or modify the Contest if it is not capable of completion as planned, including by reason of unavailability of the Prize, unauthorized intervention, force majeure or technical failures of any sort. (iv) Sponsor Entities are not responsible for errors in the administration or fulfillment of this Contest, including without limitation mechanical, human, printing, distribution or production errors, and may modify or cancel this Contest based upon such error at its sole discretion without liability.
SPONSORSHIP AND CONTACT INFORMATION. This Contest is sponsored by Blue Nectar Spirits Company, 400 Galleria Officentre, Suite 400, Southfield, MI 48034 ("Sponsor"); email: [email protected]